______________________________________________________________
Picture books tend to touch our hearts and leave us with so many different feelings.
All of the picture books I selected for my list are
#heartprint
worthy.
They have left an impression on my heart and I want to share these books and feelings
with my students, my own children, and you.
Our hearts overflow with feelings with each picture book.
My #pb10for10 list of books is full of feelings -- inspired by the picture book
(Yes, I snuck in an extra book!)
In my heart ...
______________________________________________________________

1.
This is when my heart is ...
HAPPY:
Mother Bruce
by Ryan T. Higgins
My girls and I have read this one over and over, and every time it just makes us laugh and smile and feel good inside. The illustrations crack us up! Mother Bruce is about acceptance, even if your Mama looks different or your Mama is a Bruce! Just a HAPPY read!
2.
This is when my heart is ...
BRAVE:
One Day in the Eucalyptus, Eucalyptus Tree
by Daniel Bernstrom
Oh my! What a fun little rhythmic read! It's a new favorite in our house. A spin-off of
There Was an Old Lady Who Swallowed a Fly
books, but this boy with a whirly-twirly toy is BRAVE in the belly of the snake one day in the eucalyptus, eucalyptus tree.
3.
This is when my heart is ...
MAD:
Each Kindness
by Jacqueline Woodson
This is such a special book and it has been on my list several years. It brings up all sorts of feelings. It makes me sad, MAD, and broken when students, teachers, or parents choose mean, laughter, whispers, or ignoring. What makes me happy is that we can learn from books and characters. The message in this book is clear: Each kindness matters. It doesn't cost anything to be kind. Choose kind.
4.
This is when my heart is ...
CALM
: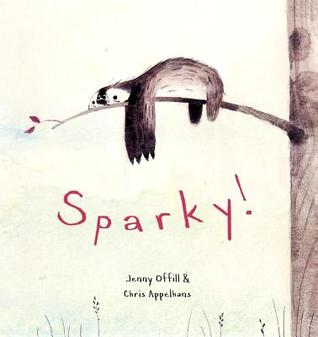 Sparky!
by Jenny Offill
Sparky, a sloth, just calms me. He reminds me that life goes by too fast and I must. slow. down. One day I may want to be a sloth and hang out or play statue or just stay CALM. Full of giggles and all sorts of silliness too -- all the while Sparky remains calm.
5.
This is when my heart is ...
BROKEN
:
Ida, Always
by Caron Levis
Oh, Ida. This book just BREAKS my heart. And every time I read it. My girls watch and wait for the tears. Lots of tears. Such a beautiful story. Such amazing illustrations. Such a powerful story about friendship and love. A must read, always!
6.
This is when my heart is ...
SAD
:
Ivan: The Remarkable True Story of the Shopping Mall Gorilla by Katherine Applegate
By now, I'm sure, everyone knows the story of Ivan. My heart is SAD when I read his story in picture book or chapter book. One of my all time favorite stories to share with students because there is still hope for the future.
7.
This is when my heart is ...
HOPEFUL
: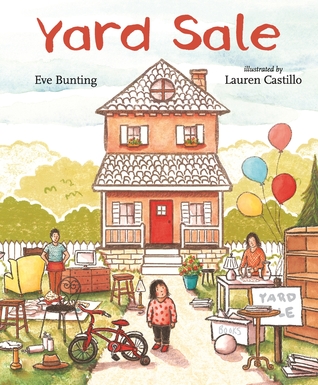 Yard Sale
by Eve Bunting
Big changes in life are hard. Reading this book allows students the opportunity to understand that even when life happens without understanding, there is room for hope. It's not the stuff that matters most, but the people in our lives -- family, friends, neighbors, teachers -- that allow us to stay HOPEFUL.
8.
This is when my heart is ...
AFRAID
:
I'm Trying to Love Spiders
by Bethany Barton
I just don't like spiders. They are quick and crawly and I want them dead. "I'm trying to love spiders" are not words that I will speak, but I do love this book about spiders! It still makes me AFRAID when I read about spiders. And for now, I still want to kill 'em. Splat!
9.
This is when my heart is ...
SILLY
:
This Book Just Ate My Dog
by Richard Byrne
This one is just SILLY! What fun to read and wonder about how this book is taking bites. The illustrations compliment the text and silliness of the characters disappearing into the gutter. The letter to the readers, the shaking of the books, and the final last page make this book even sillier.
10.
This is when my heart is ...
SHY
:
What Do You Do With an Idea?
by Kobi Yamada
I absolutely love the message of this book. The beauty of the idea growing beyond imaginable. I have ideas that I let sit and wait. I sometimes ignore and push to the side. Life is already busy and with a lack of time, space, and other worries ... I SHY away from moving forward. I know that is no good excuse and I would never accept that from my students or own girls. So, perhaps, returning to this book will remind me to nurture my ideas and be brave in my future quests.
Please share YOUR
#heartprint book and feeling:
This is when my heart is ...
______________________________________________________________
My previous #pb10for10 selections:
______________________________________________________________
Be sure to check out other favorite #pb10for10 picture books at