Check out other favorite Picture Book Lists at
Every year that I have participated in the #pb10for10 -- sharing ten (yes, only ten!) picture books that I could not live without in my classroom -- I usually shared my here-are-my-now-favorite ten picture books. My lists had some standby solid favorites sprinkled with a few newer titles. Never once had I thought about a theme like many of the other smart picture book lovers that were sharing. This year I thought I would stand my ground and share my right now favorites.
And then I got to thinking a little more.
Oh, the possibilities ...
______________________________________________________________
1. Possibility of IDEA:
What Do You Do With an Idea?
by Kobi Yamada
Love the possibilities of ideas that grow! A gift of nurturing your dreams, being unsure to share, watching them grow! Just a beautiful story accompanied by gorgeous illustrations. Let the ideas flourish! Something I want to encourage in my children and my students.
2. Possibility of WONDER:
On a Beam of Light: A Story of Albert Einstein
by Jennifer Berne
An important book to encourage children to never stop asking questions, wonder, think, and asking more questions about all things BiG and small. Kids already have this natural curiosity and we need to continue to foster and encourage that wonder and questioning in the classrooms.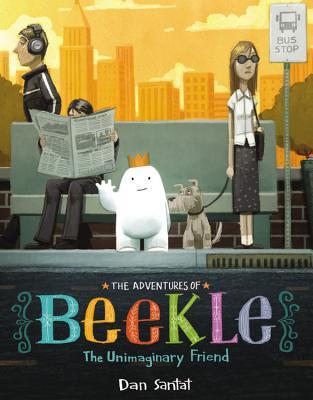 3. Possibility of IMAGINATION:
The Adventures of Beekle: The Unimaginary Friend
by Dan Santat
Everyone needs a friend, even an imaginary friend is looking for a friend. Beekle courageously sets out to find his perfect match to do the unimaginable. Loved all the imagination that Dan Santat used in creating this book. (Fabulous illustrations!) And Beekle is just too adorable!
4. Possibility of HOPE:
Fly Away Home
by Eve Bunting
This is one book that has stayed on my list. A touching story about a father and son living in an airport trying to live unnoticed.
This story is full of hope and a future beyond the glass doors of the airport, especially after the boy watches a trapped bird is freed. It's sure to allow for many questions and wonderings.
5. Possibility of KINDNESS:
The Invisible Boy
by Trudy Ludwig
This is one story that will never, ever be forgotten.
A heartprint book.
(Oh, that would have been a great idea for a book list!) A story that needs to be shared in every classroom. No one wants to feel invisible, especially Brian. Yet, there are many students that feel invisible even in our own classrooms. This is one story that tells about the power of one little, "Hello." The words and illustrations work together beautifully to tell the story about the invisible boy.
6. Possibility of OPPORTUNITY:
Each Kindness by Jacqueline Woodson
Another
heartprint
book. A perfect pair with
The Invisible Boy
. We all know a Maya. The new girl who wanted to be invisible because of Chloe and her friends. Chloe wasn't an outright bully, but little things like ignoring, whispering, laughing still hurt. A lot. However, Chloe learned a BIG lesson about kindness, but after it was too late. (A powerful activity to see and remember the scars of bullying:
The Crumpled Paper
.)
7. Possibility of FRIENDSHIP:
The Lion and the Bird by Marianne Dubuc
I was taken by surprise by this book. The simplicity of the text. The unlikely friendship between the lion and the bird. The lion's kindness. The hope of goodness. The soft, beautiful illustrations. So much to enjoy in this book.
8. Possibility of JUSTICE: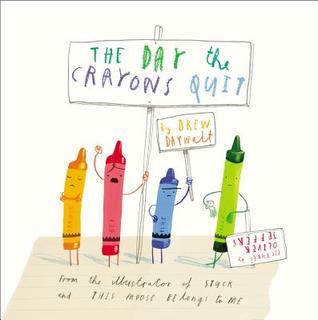 The Day the Crayons Quit
by Drew Daywalt
If only the crayons could talk! This book holds so many possibilities! Every crayon shares a frustration with crayon box owner Duncan. And they are just not happy. Quite amusing to read from their point of view. Laugh out loud funny. (A great mentor text too!)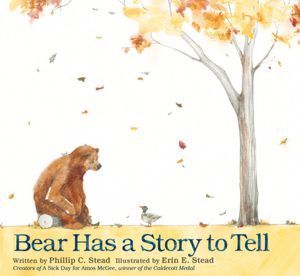 9. Possibility of STORY:
Bear Has a Story to Tell
by Philip C. Stead
Not your average bear book -- and there are a lot of bear books out there! A story about Bear who is so sweet, so kind, so patient, so willing to help his little animal friends prepare for winter, even when he wants to tell his story before everyone is asleep ...
10. Possibility of POSSIBILITIES: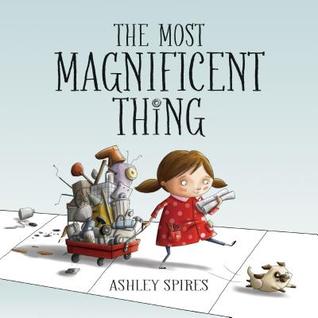 The Most Magnificent Thing
by Ashley Spires
All the possibilities are held in the creation of the most magnificent thing. The struggles, the in-betweens, the wanting to give up, the sticking-with-it, the triumphs ... This books holds the power of teaching creativity and perseverance -- and even a little lesson about making mistakes. The perfect book for the perfect time - and I love that the main character is a girl!
*After thought: I was amazed after compiling this list that the illustrations play such a crucial role in the power of a picture book story. (I know that's why they call it a picture book, but not all picture books were created equal.) Almost every one of the titles I added to my POSSIBILITIES list was included because of the words and complimentary (and usually beautiful) illustrations.
Oh, the POSSIBILITIES picture books bring into our lives.
Enjoy ALL the possibilities today!
______________________________________________________________
My previous #pb10for10 {non-thematic} selections:
2013
2012
2011
______________________________________________________________
Be sure to check out other favorite #pb10for10 picture books at